Hey guys!
This is an odd post in that it's written primarily for an audience that is new to nails/nail blogs. Many of you who have been doing your nails longer than I have are probably aware of everything I will write below but for those of you who are just getting into your nails, this entry will hopefully be of some help!
This was partially inspired by D:)'s
experiment
and partially inspired by my own laziness/lack of time. I often go without polish on my nails because I like nail art and, depending on what it is, this can consume a lot of time. I also abhor things not matching; bare nails match any outfit. :P (This may also explain why I love French manicures.)
Anyway, I'm here to extol the virtues of a good buffing block. When you're leaving your nails bare (whether that's so they'll have an opportunity to get strong again after continuous polish wear or because you're trying to get rid of yellowing) many of us hate to go without a topcoat. A good buffing block helps solve this problem by buffing your nails to a healthy shine. Often I just file, buff and go. This usually keeps my nails looking healthy (and as though I'm wearing topcoat) for at least 2 weeks. It also helps polish adhere smoothly the nail bed. The buffing block I'm currently using was picked up from Transdesign.com for less than $2.00. (Good doesn't have to mean expensive!)
In case anyone is wondering about my cuticles, I will admit that I rarely do much to them. Sometimes when I'm in the shower and my cuticles are soft I'll use the edge of one nail to push them back. That's about it. Lazy, lazy! I have never trimmed my cuticles but I do try to massage them whenever I put lotion on my hands. (Handy tip...keep lotion next to the sink and make it a part of your hand-washing routine.) I picked up an Organix Cosmetix manicure set (including hand cream, cuticle oil, a buffer and nail file) for about $35 CDN sometime last year. It works well but there are cheaper solutions (especially for the file and buffer which sells individually for $20!) Love the cream and cuticle oil though.
Note: all photos were taken shortly after my trip. I haven't filed my nails in about 3 weeks.
bare tips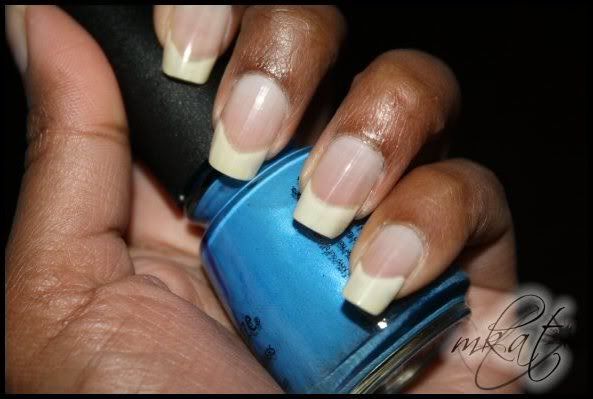 buffed with a 3-sided buffer

- mKat
Like this? Click below to let us know!