I had initially planned to swatch some China Glaze blues but at the last minute decided to do a KOTD instead. It's a little messy around the cuticles. I haven't got the skill the other ladies have for avoiding their cuticles and I typically take pictures a day after a mani so the polish has had a chance to come away from my skin. No time for such luxuries today though!
I am still trying to figure out what I think of Light as Air. I don't know whether it's because I was trying to do this mani hastily (or not) but I found the application to be a bit fussy. It was lovely and opaque in two coats but the polish dragged a bit as though it were drying quickly during the application process. On another note, while I am not a fan of pastels on myself I bought this precisely for the purposes of doing Konadicures and I think it turned out well. I am not sure I could pull this shade off (nor am I sure I'd try to) on its own though. Still, it does make a beautiful base. And Grape Pop stamps surprisingly well!
---
As an aside, one of my students noticed my nails last week. It took me by surprise initially since she attended my office hours to talk about the course (obviously)... But she was so enthusiastic about my Konadicure I had to explain it to her. She left a Konad convert (and actually sent me a follow-up email) so I told her about Kathleen over at OCNailart. I guess this nail polish "thing" of mine can't stay hidden forever! Then again...maybe it should!
---
Base colour: China Glaze - Light as Air
Stamp: China Glaze - Grape Pop; China Glaze - Avalanche
Plate - Konad m57, m54
Topcoat: Seche Vite
Anyway, as I'm sure most of you are aware, the semester is drawing to a close. I have final papers to write, comps lists to compile, tons of assignments and final exams to grade...and a conference to get ready for in just under 3 weeks. Suffice it to say I'm freaking out a little. (Mainly over the conference because public speaking scares me to no end...and it's been a really, really emotionally trying semester as a result.) With all that in mind, I'd like to wish everyone in school a great end of term...and everyone in general a Happy Easter.
As I'll be quite busy in the next little while I probably won't be back in earnest until mid-May. But you'll likely see me stick my head in to say hello and/or find me rambling about something or the other on my personal blog (
http://edgeof-in-sanity.blogspot.com/
). (Until then you've got awesome ladies with more interesting polish taste than I have to entertain you.) :)
Have a great April!
Oh...and here's a peek at my new polish storage: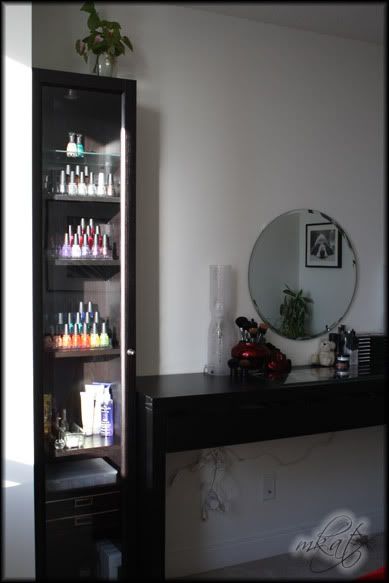 -mKat
What I'm wearing: My "Light Grapes" mani. :)
What I'm waiting on: A textbook for one of my classes; Richard Walker - The Conquest of Bread
What I'm lemming: I think I've finally picked a phone - Google's Nexus One. Amusingly...it doesn't have a keyboard - see: convo.
Like this? Click below to let us know!