I haven't done my nails in months. Months!
When I get busy with school all else goes by the wayside until I look like a defeated sasquatch. Slowly my makeup use starts to decline... and I'm no longer making sure my brows look good... Eventually, it's a good day if I brush my hair. :P (I am only partially kidding.)
Anyway, I have to admire the other girls for keeping up with their manis no matter how busy they are. I have never been in the practice of doing a daily NoTD (something that might change with my discovery of Seche Vite), in part because I typically like to take a while to do nail art, and I don't often wear a plain nail color. But after a month of bare hands and being bored... I figured something was better than nothing. And oh what a something I picked!
This is a really quick shot (with my phone's camera) of Color Club's Chelsea Girl, my first "full" Color Club polish and, I think, the first polish I want a backup of. There's something incredibly sophisticated about cremes, in my opinion, even bright (neon) blue cremes such as this. I cannot even explain how happy this color makes me...but my fingers and toes now feel divine. Perhaps it will inspire some work out of me. :P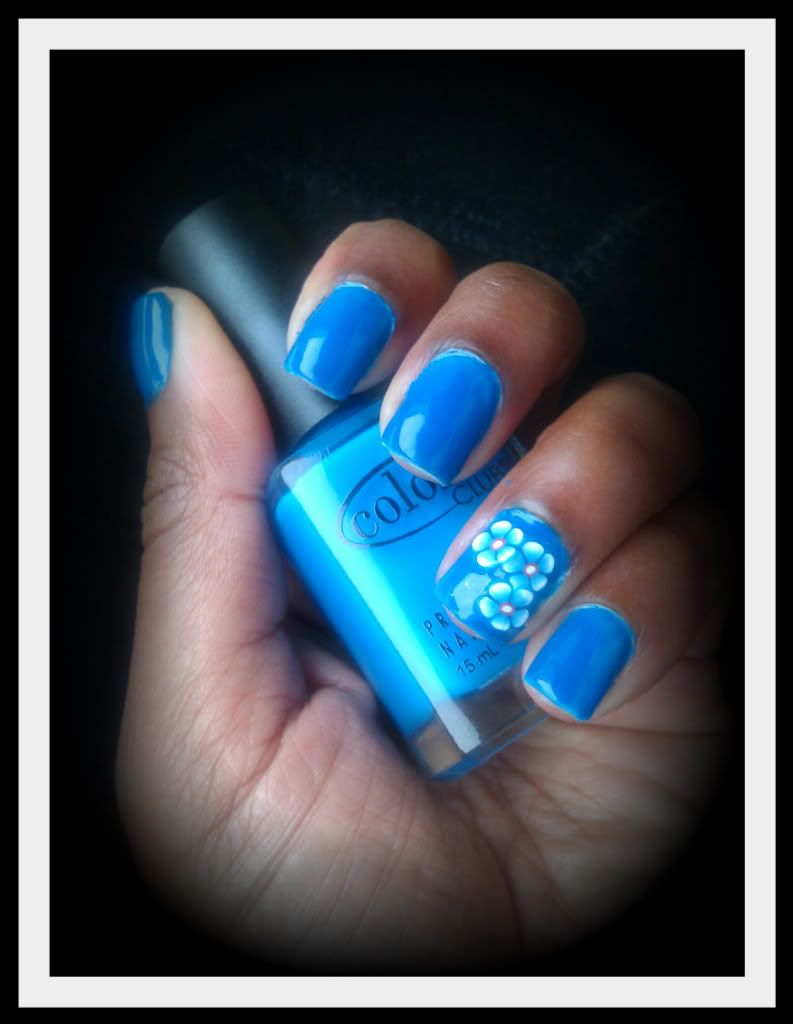 In reality I think this color leans a bit more cerulean than is seen in the picture. But it was a quick shot without me changing any settings on my phone so I'll live with it. Application was streak free in three coats, but I did a fourth for extra measure. As with many neons it dries a bit matte but looks gorgeous with a topcoat (I chose Seche Vite) and sort of exhibits what I consider to be jelly-like qualities.
Anyway... I'm in love. Chelsea Girl and I are running away together. With a couple of fimo decals along for the ride. :)
P.S. My nails haven't been this short in forever. But I had a few really bad breaks (geocaching+logs+long nails=bloody hands) so... yeah. Rocking the short nails for a bit. Liking it though. :)
Like this? Click below to let us know!