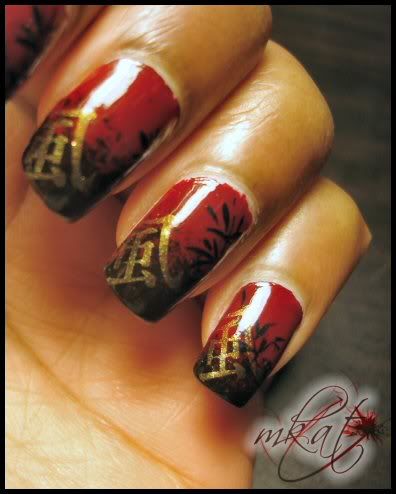 For some reason, when I was initially inspired to try my hand at Konading, I decided to complicate my life by simultaneously attempting to sponge on my nail colour as well. Happily, my experiments didn't turn out half bad (if I may say so myself).
For those who might be wondering, Konad does have a
sponging kit
, but in my usual "frugal" way I cheap
ed
out and grabbed some sponge-tipped paint brushes from my local dollar store. You know, the kind you use for painting the edges around trim.
Look 1
This was my very first Konadicure, inspired by a silky red and black dress I own. In a way, I don't feel that pictures do it justice. The gold looked like a lovely gold leaf foil over the back/red and the sponging reminded me of graffiti art montages that roll in the credits of certain movies.
The red in this particular look is Vino, a discontinued crème red from MAC that I acquired in a "by-the-way" fashion. I am typically not a fan of bright reds on my nails, but this shade is a perfect blood red and it contrasts with black very nicely. I would
love
to get my hands on another one of these or a dupe if one exists...so let me know if you know of any!
Base colour: MAC - Vino
Tip: Rimmel - 399 Black Satin
Stamp: Konad SP - Black Pearl; Konad SP - Gold
Plate - M24 (Korean symbol)
Plate - M66 (bamboo)
Topcoat: Sally Hansen Hard as Nails w/ Nylon in Nude (no. 95)
Lamplight, with flash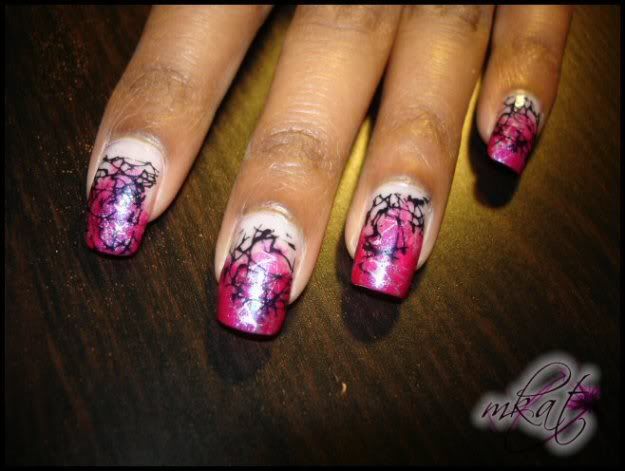 Base colour: China Glaze - Seduce Me; China Glaze - Reggae to Riches
Stamp: Konad SP - Black Pearl; Konad SP - Silver
Plate - M70 (graffiti)
Topcoat:
Sally Hansen Hard as Nails w/ Nylon in Nude (no. 95)
As might become obvious over the course of my posts, I love grunge and graffiti (from an artistic point of view) and this was was the inspiration for this dirty pink look...a bit of girly grunge! I am proud to say that these nails garnered positive attention at a bar (though the verdict is still out on whether I was being hit on by a girl :P ) and Sephora (where I had the opportunity to give a MUA a quick rundown on Konad).
I am starting to think that sponging may be a great lazy way to get a French manicure on the days I don't feel like precision.
Thanks for looking!
- mKat
Like this? Click below to let us know!