**
There's still time to enter our
banner
contest!
**
Hey guys!
I've got a fun gradient Koni for you today that's a bit on the softer side. It's pink (I've been wearing a lot of pink lately but I'm not sure why. I'm not typically a pink girl.) with white flowers and a delicate bit of multi-hued sparkle pressed in over top. If you're wondering, this isn't a Valentine's Day mani. My bf and I have been together for just shy of a decade and we've never celebrated Valentine's Day. This year, we had my parents over for dinner and enjoyed some good food and good company. :) Hope you guys had a good one, regardless of how you spent it. (Every day in one's life should be a good day, right?)
Base: China Glaze - Awakening
Tips and Stamp: Konad SP - White
Glitter: CM Gold Reflections 43
Top Coat: Sally Hansen w/ Nylon in Nude (no. 95)
Konad plate: m36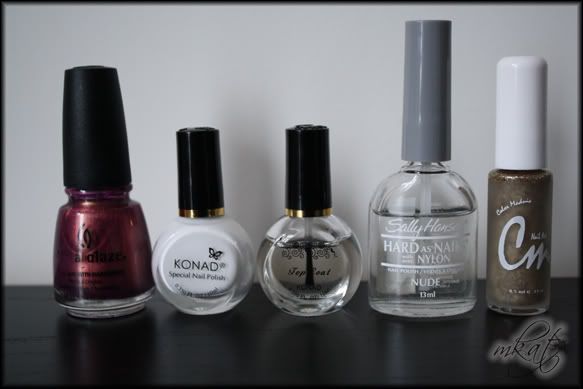 A left-turn to nowhere:
Totally unrelated to nails (because my interests are all over the map), I thought I'd share the fact that I
love
mashups. At the moment I'm listening to a couple of older mixes: Soulja Boy's
Crank That
and Van Halen's
Jump
(aka
Jump Dat Soulja
), mashed by the very talented DJ Lobsterdust. Also on my current playlist is DJ Earworm's
United State of Pop 2009: (Blame It On The Pop)
.
If you haven't heard it, definitely check out the song and the video as it mashes the top 25 pop hits of 2009! Why am I posting this on a nail blog, you ask? I'm always on the lookout for new mashups. If you've got some to recommend, let me know!
- mKat
What I'm wearing: Hot pink and lots of glitter!
What I'm lemming: Bulbs. (I'm totally following Flinty's cue on this lightbox building business!)
Upcoming: TransDesign, OC Nailart and chez Delaney hauls; I've been a Bad Kitty; Nailene nails.
Like this? Click below to let us know!