Hey everyone:
I thought a little comparison between Konad and Fauxnad plates might be helpful for those of you who are just getting into stamping nail art. At very least it should give you an idea of the range of options available for stamping. (If you're already aware of this or not interested in nail art stuff, feel free to skip this post and check out some awesome entries from my fellow PoP bloggers!) :)
Currently I own twenty-six nail art plates, sixteen of which are "official" Konad plates, and fifteen of which were purchased from Kathleen at
OCNailart
. The initial plate which led to my foray in blogging was purchased from a kiosk at a local mall that specialized in nail art.
My remaining (Fauxnad) plates were recently purchased from French e-tailer Véronique at
chez-Delaney
. To my knowledge chez-Delaney offers no discount codes, but their shipping is decent.
Both Kathleen and Véronique are extremely helpful and in many cases they respond to email inquiries quite quickly. Orders (shipped standard) are quick to arrive (I was
really
surprised at how quickly my shipment arrived from France) and both of them are happy to help sort out any errors you may have with your order. (I've updated my OCNailart orders at the last second with no problem at all and I've had an incorrect plate listed on my chez-Delaney order which Véronique attended to immediately.) My recent acquisitions were the third and first time I had purchased from OCNailart and chez-Delaney respectively and in all cases I have been quite satisfied.
So what's the difference between Konad and Fauxnad, you ask? Well, there are a couple of different things so let's begin at the top.
Quality of the plate(s)
Konad images are etched onto stainless steel discs with a finished (filed) edge and a paper backing. To the touch, these plates are solid, with a decent amount of weight behind them. By contrast, fauxnad plates are pressed using a lighter (seemingly flimsier material), are often unfinished, with a rough edge (not as sharp as a lid removed with a can opener, but along those lines), and do not possess a paper back. This might be bothersome to some. For me it isn't much of an issue, but I would advise against leaving younger children unsupervised with unfinished fauxnad plates.
A comparison of Fauxnad (top) and Konad (bottom) full images.
Fauxnad measures 16x20mm and some full Fauxnad designs are even larger while Konad measures approximately 13X17mm, typical of most full nail Konad images.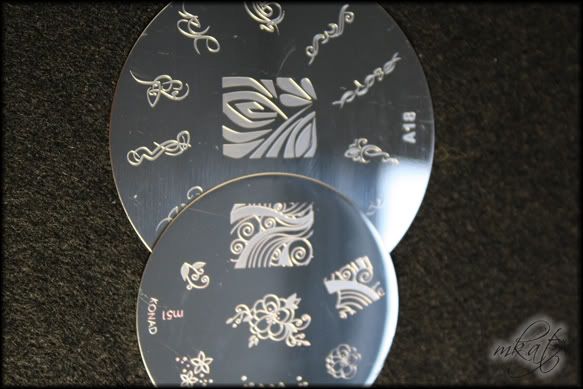 Quality of the image(s)
There has been some debate as to the quality of images available on Fauxnad plates. Fauxnad plates offer a wide range of images to choose from (and in many cases provide a replica of an original Konad image.) One of the great things about many Fauxnad plates is that their plates come with mirror images which is especially great for doing stamping on both hands when you want your image to face in the same direction i.e. always toward the thumbs. However, if you look closely enough (not that anybody ever will) you'll find that some of these mirrored images are slightly off which suggests an inattention to detail.
Some people have also complained that certain fauxnad plates have not been etched as deep as Konad plates. I have had alternating trouble picking up images from both Konad and fauxnad plates respectively (sometimes due to the polish I use, sometimes due to my stamping technique) so I'm not totally convinced that the quality of the etchings on a fauxnad plate is necessarily worse. (This may be something I get back to later.)
L-R: Fauxnad H22, Konad m51
Size of plates and "full sized" images
While many fauxnad plates come in the same size as Konad plates (just over 5.5cm), fauxnad also offers you larger plates (7cm in diameter) and in my opinion, if you were going to invest in fauxnad, these would be the ones to get. In contrast with Konad, these larger plates offer larger "full sized" nail images which are great for easily covering the entire nail (especially if one has longer nails) and minimizes the need for double-stamping. From a design point, I find these full sized images are also a lot more interesting than many of the full sized images that Konad has to offer. But that's totally personal preference. All in all, I think mixing up one's collection is the best way go go.
Price Breakdown
OC Nail Art
plates cost $6.99 each
free worldwide shipping (over $40 US, $20 domestic)
Chez-Delaney
"small" plates (same size as Konad) cost 2.90€ (approximately $3.95 US, depending on exchange rate of course)

large plates (7cm) are 3.90€ (approximately $5.30 US)

"A series" plates (7cm) are 4.10€ (approx. $5.50 US)

1-7 plates (any size) shipped for 3.50

€ (priority to Europe)

1-7 plates (any size) shipped for 5.00€ (approx $6.80US priority International); 8th plate would be an additional

5.00€ (up to 14th etc.) - shipped in padded mailer

thus far, no discount code available
Feel free to check out my earlier
haul
post for shots of Fauxnad plates from Chez-Delaney.
-mKat
P.S. If anyone was following my blog and has had recent difficulty with the feed, here's the link again:
http://edgeof-in-sanity.blogspot.com/
Cheers!
Like this? Click below to let us know!